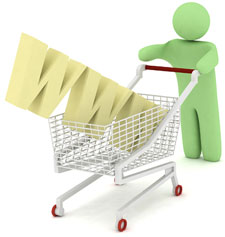 SEO (Search Engine Optimization) plays a very important role in the success of any eCommerce website. What if you already have an eCommerce website and it is not being ranked on Google? How will the customers visit your site which is your main target behind creating an online store? For this, you need to find a good eCommerce platform that can help your online businesses get potential customers.
We at ITLANDMARK can make this an easy job as we offer the best SEO services for your eCommerce website. Here we don't just claim ours to be the best SEO service offering solutions, but we have proved it by offering SEO services to many websites so far.
If you are not sure still, then you can best compare the SEO features with the list of must to have 20 SEO features.
SEO features to look for when choosing our ITLANDMARK eCommerce solution or any other eCommerce solutions:
1. SEO-Friendly URLs
The eCommerce platform should be able to hold fixed, keyword-rich URLs.
For instance, if the platform offers URLs like below, then it is said to be a poor one.
/p-24601.html
/category.php?id=24
/product.php?id=24601
On the contrary, it has URL like below, then it is said to be a good one.
/les-miserables-dvd-24601.html
/Americans-dvd-22245.html
2. Granular Page Title Control
This is one of the vital features of a good SEO. It allows modifying page titles for various pages and also category page titles. But some bad platforms allow modifying of product page titles but not category page titles.
3. 301 Redirects
Choose an eCommerce platform that allows you setting the 301 redirects. Many of the eCommerce websites often delete pages when the products are discontinued or categories are changed. However, 301 redirects allow the visitors to land into a new page from the deleted page.
4. Canonicalization
Canonicalization indexes and ranks the content which can be viewed with multiple URLs. For instance, a particular page could be accessible through different URLs.
The primary URL version can be given by using <link rel="canonical" href="" />. This can avoid duplicating of the content and adds link juice to the primary web address. Always ensure that your eCommerce platform will support at least these following two changes –
Choose the primary or preferred domain. If you want to your site to be example.com or www.example.com, 301 redirects can help the alternate version to direct to preferred version.
Set a canonical URL for every page so that it is displayed in Google SERPs
5. Flexible Taxonomy Options
A well built brand and category taxonomy can help your site navigation and also improves SEO. Optimizing the brand pages for branded keywords can bring high conversion rates.
6. Search-Friendly Navigation Structure
You need to opt for a navigation structure that meets all the SEO criteria like:
Primary navigation links are text, but not images
Site should be able to navigate without JavaScript or Flash
Superfluous pr duplicate links should be kept to a minimum
Navigation menus should be edited at the individual link level
7. XML Sitemaps
These are structured formats that tell the search engine about the pages in the website, their relative importance and how often they are updated. This is another good way to make your site crawl by the search engine.
For more complex websites, an automated XML sitemap generating SEO platform is required so that it gets updated easily.
SEO Features which are useful for many of the eCommerce websites:
8. Robots Meta Tag
The robots meta tag allows you to use granular page specific approach in controlling how an individual page should be indexed to users on search engine. You should find an eCommerce platform that allows you to set individual pages to display the meta tag.
9. Google Analytics Ecommerce Tracking
Many eCommerce platforms do not support Google analytics on the profile settings page for the website. When you give your online website for eCommerce solutions, then you should better ask for a platform that supports "Google Analytics eCommerce transaction tracking".
Though this is not a strict feature in SEO, it allows making better SEO decisions.
10. Blog
Content marketing system (CMS) is also another effective strategy for creating back links, for this a blog is an important tool. Go for platform that provides a full featured blogging and social sharing.
11. Custom Landing Pages
An eCommerce platform which builds custom landing pages, allows targeting of more keywords and custom,-tailor pages to reach specific market groups.
12. Robots.txt Control
A robot.txt file helps you to specify URLs or directories which robots should not crawl. This is helpful for stopping search engines from crawling those non-HTML files not supported by robots meat tag. Though Google will not crawl these files, they will display the web addresses in SERPs.
13. Site Speed
Fast loading websites are good for users, SEO and also gains higher conversion rates.
When you wanted to choose self-hosted software, look for an eCommerce platform with efficient code, that's fast and has the ability to implement best practices of Google performance. Consider to run your site on the most dedicated server.
When you are choosing a hosted eCommerce platform, you won't be able to find the server side code and also the ability to implement best practices of Google performance.
14. Authorship Markup
Go for an eCommerce platform that makes it easier to add authorship markup to content pages. The rel="author" tag has a high impact on SERP CTRs and its ranking factor in SEO is quite high.
15. Google Analytics Site Search
The eCommerce site should help the users to search products on the site. simply returning results is not just needed, but the platform should be integrated with Google analytics site search feature. This can provide you report of the keywords the users searched and this data can add value to keyword research.
16. Alt Tag Control
Go for an eCommerce platform that allows editing the alt tags for individual images.
17. Schema.org Markup
Scheme.org markup is a collection of HTML tags which search engine uses to improve their results in SERPs. It offers tags for products, ratings, reviews and many other objects.
18. Frictionless Social Sharing
Your eCommerce website should be optimized for social sharing as social media plays an important role in SEO. It includes –
Displaying social share buttons to encourage users to share product pages
Open Graph Protocol that enables any page to become rich object in social graph. When the site is being supported by this, soon after the share button is clicked, it easily specifies the image, title and URL
19. Granular Meta Description Control
Though meta descriptions will not influence the ranking directly, they can influence SERP click through ratings. A platform that allows editing meta descriptions for each page is useful.
20. Rich Content Category Pages
Most of the platforms neglect adding content to the category pages, which is not at all good. A good eCommerce platform allows you to add content, embed media like videos and images on category pages also. This benefits users as well as search engines.
ITLANDMARK has cost effective SEO solutions for your online business.
Want to choose our unique solutions for your website? Here is a Contact Form deployed on this page through which you can give your queries or ask for solutions. We offer each of these features an eCommerce website requires.