List of Top Payment Gateways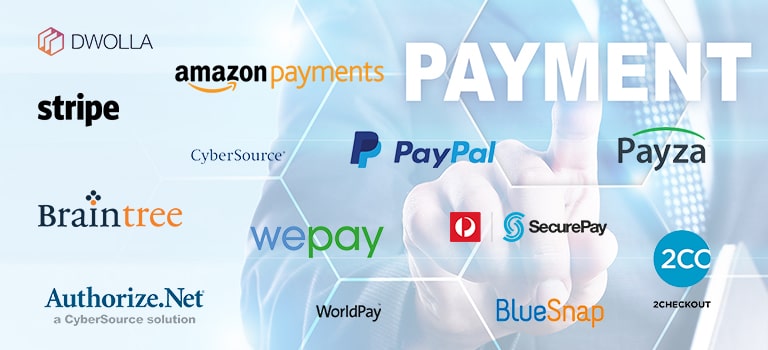 One of ITLANDMARK's biggest assets is our expertise in integrating payment gateways using ColdFusion. So far, we have integrated more than 25 payment gateways to numerous ColdFusion websites/applications.
With a lot of new payment gateways coming up each year, we wanted to briefly review some of the most popular payment gateways. These are as follows:
Authorize.Net
Authorize.Net is one of the most economical and reliable services, which runs its own payment gateway instead of contracting it to other services. Authorize.Net have very nominal monthly fees and charges $0.10 per CC transaction which is one of the lowest of its kind. Their fraud prevention tools and virtual terminal come free with the subscription.
The API provided by the company could be used to completely customize the website. Do contact us if you require any help in this regard. A simple Checkout is an option provided by them targetting small businesses where the highly secure payment forms are hosted elsewhere.
This could be great for small business entities and it's always great to conduct credit card transactions on your website to gain confidence in your customers.
Technical support is completely free for Authorize.Net customers. They could be reached via email, phone, or live chat. Do remember that they are available only from Monday to Friday – 5 a.m. to 5 p.m. (Pacific Time).
Paypal
Paypal is one of the most widely used payment gateways, as it is less problematic with merchant accounts, returned charges, and credit card transactions. Some of the top payment solutions provided by Paypal are –
PayPal Payments Standard
PayPal Payments Advanced
PayPal Payments Pro
Websites using PayPal Payments Standard could accept credit cards but customers would be required to go to the Paypal website. The Advanced and Pro version would let customers stay on your website as the payment forms would be hosted on your website.
PayPal Website Payments Pro is one of the best solutions which could be used by websites that do not have huge transactions. They could be integrated easily with nearly all popular shopping carts.
Client support at Paypal is sometimes great while it sucks at some occasions. They have a history of holding back sellers' funds and even freezing accounts. If you want to use it then employ it as a secondary payment option.
Wepay
It is a powerful API built for platforms, powered by Chase.
It will allow clients to integrate payment gateways easily with very optimal efforts.
This provides options like registering users, creating payment accounts for those users, and accepting payments for those accounts. The API uses Oauth2 for authentication which is very safe and reliable.
Wepay provides two flexible options Embedded Checkout and Custom Checkout.
Embedded Checkout: This will minimize PCI compliance responsibilities and collect payment information within a co-branded iframe, or use a pared-down option for credit cards only.
Custom Checkout: Your platform collects payment information within your own custom-branded form, and tokenized credit cards for later use.
CyberSource
CyberSource delivers services for business owners of every size and type. This is one of the most flexible and professional payment gateway solutions encountered so far. This gateway helps optimize business results by managing every aspect of your payment operations from accepting payments to pavement security.
This complete modular system of web-based assistance offers the versatility to add more options when and where required. Its features include –
Global Payment Services – Give you the freedom to sell online anywhere in the world and thus give a boost to your customer reach. Merchants can accept payments in preferred local markets, transact payments in nearly 190 countries, and deposit capitals in major currency trade centers, enabling every step in a single connection.
Payment Security – Offers a wide line of services that reduce the complexity and cost of payment security. Protects your brand and builds trust.
Fraud Management – Detects the fraud sooner and accurately, while streamlining the fraud operations.
Reporting and Reconciliation – Provide reporting and reconciliation knacks to streamline the process operations.
Amazon Payments
Amazon's payment gateway is similar to PayPal and Google Checkout processes. This payment service offers its customers the flexibility to make their payments on other websites using an Amazon account.
Amazon Simple Pay is one of the Amazon services used by merchants to create, improve conversion and attract users to their applications. It enables easy payment processes. It can be set as a payment option for digital goods and services like digital content, online publications, and social networking. It also offers chargeback controls, fraud detection capabilities, and risk management techniques to reduce bad debts and lowers costs.
Amazon Flexible Payments Service is the primary payment service created from the ground up for developers. This is created on top of Amazon's scalable payment infrastructure, offering developers an easy way to charge millions of buyers. Customers are required to make their payments using login credentials, payment information, and shipping address already in the Amazon database.
Adyen
Adyen is a global payment company that provides a variety of online payment processing services. The company provides a single platform that allows businesses to accept payments from customers in various countries and currencies.
Here are some of Adyen's online payment services features:
Global Payment Processing: This platform accepts payments from customers all over the world by supporting over 250 payment methods and 187 currencies.
Payment Optimization: This platform uses machine learning to optimize payments and routing, to make sure that transactions are routed through the most effective and cost-efficient payment methods.
AI Fraud Detection: This platform has built-in fraud detection capabilities that use machine learning and AI to detect and prevent fraud.
Payment Security: The company meets the highest payment security standards as a PCI Level 1 compliant payment service provider.
Payment Analytics: This platform offers detailed payment analytics and reporting, allowing businesses to monitor payment performance and make data-driven decisions.
Developer-Friendly: This provides a variety of APIs and developer tools that make it easy for businesses to integrate the payment platform into their websites and apps.
Adyen provides excellent developer assistance via email, phone, and online chat. Developers can post questions and seek assistance from other developers in the community forum.
SecurePay
SecurePay is one of the largest payment gateways in Australia and is being operated by Australian post. This Australian Post Business is specialized in developing cost-effective payment services tailored to the business needs. The payment solutions are delivered using a wide range of proven and well-tested major proprietary developed systems. With PCI-DSS compliance, this is the most secure platform.
It easily integrates the existing applications, CRM (Customer Relationship Management) systems, shopping carts, and booking engines. It builds and maintains the payment services so that the users can know where and how the payments are processed.
Stripe
Stripe is comparatively a new payment gateway founded in 2010. There are no set-up fees for the service, no minimum charges and overall there are no monthly fees. Stripe charges fixed transaction fees of 2.9% plus $0.30 for all types of cards and areas. There are no fees for refunds or failed payments either. The company does have a $15 chargeback fee.
Stripe keeps the credit card information away from the merchant's server thus eliminating the need for PCI compliance. They however hold the money for seven days before paying it.
The company provides 24/7 chat support, and email support. Online reviews on this payment gateway provider are primarily positive and their customers are happy with their services. This service could be your first choice if you are implementing payment processing for a moderate type of transaction.
Square
Square payment gateway provides a free online store feature that connects to Square payments. It also provides an end-to-end payment processor that serves all eCommerce solutions.
Square comes with software to accept payments and manage the business in one centralized system with advanced reporting tools, time card management, etc.
Square processes all major credit cards online.
Braintree
Braintree Payment Solutions is a Chicago, Illinois-based company founded in 2007. The company targets its services to e-commerce merchants and subscription-based businesses.
Braintree offers PCI compliance automatically by storing the credit card information away from the merchant's servers to its own secured servers. Re-entering the credit card information is not necessary when it comes to a refund or recharge. It also lets merchants set up charges that are recurring and are done at periodic intervals. Merchants could accept payments in 134 currencies spanning 21 countries.
Transaction fees charged by the company are similar to that charged by Stripe & Paypal which is 2.9% plus $0.30 per transaction which is the same for all credit card types. In case of disputes, the merchant has to bear chargeback fees of $15. In case a merchant wants to use their payment gateway with a different processor, they will then charge $49/month with 10 cents transaction fees.
You might want to consider Braintree services because they do not charge monthly fees, setup fees, PCI compliance fees, and overall no cancellation fees. We could not find negative comments or reviews on them on the web.
WorldPay
WorldPay was founded in 1989 under the name "Streamline". The company has a good presence in UK and Europe and is also active in 40 countries internationally.
Other than offering credit card processing services, the company also offers check processing, gift card processing, loyalty card services, and ATM, while its online payment processing is powered by Authorize.net.
Rates for this service are higher as compared to other providers and longer agreements for their services might not go well with small merchants. Merchants are required to signup with them with three years standard service agreement and automatic one-year renewal. The cancellation penalty is $495.
Worldpay is a very big direct processor with a wide international presence. If they could work on their penalty and auto-renewing contracts, they might become a preferred provider for even small and medium businesses.
Dwolla
Dwolla was founded in 2008 and is primarily a preferred provider due to its low-cost service for businesses. Their services are similar to Paypal but with a little difference. They do not charge fees for the transactions by linking consumers' accounts with Dwolla with their checking accounts.
Dwolla eliminates fees that merchants have to bear while accepting credit cards and also eliminates transfer delays and fraud. Dwolla also provides instant cash transfers globally.
The company provides email support and has a dedicated customer support number. The company offers a low-cost solution for businesses that are low in risk. Their service is highly preferable for business-to-business payment.
2Checkout.com
2Checkout is best known for supporting all leading payment methods and gateway services, like MasterCard, Visa, Discover, American Express, Diner's Club, JCB, debit card, and even PayPal.
It has two different checkout methods
Standard: It displays the checkout page depending on the customer's device, which shows as if the Checkout page is part of the merchant's site while providing all the benefits of a hosted checkout solution.
Hosted checkout solution: Any transaction entered in 2Checkout is guaranteed to be secure thanks to the platform's Payment Card Industry (PCI) Data Security Standard. Its PCI security is Level 1 certified, the highest certification possible that guarantees total protection for both merchant and customer from possible fraud.
offers integration with more than 100 online shopping carts and invoicing systems, which include Shopify, Magento, and WP e-Commerce, among others. A suite of open API is also available that will enable your site to be integrated with 2Checkout's powerful payment platform.
AlertPay (Payza)
Payza (formerly AlertPay) can be used by businesses and individuals to securely send and accept money anywhere in the world. Individuals can open a personal Payza account while enterprises can make use of business accounts for their larger needs. This solution performs conventional online payment processing and is similar to other payment gateways.
Payza is available in 22 currencies and is used in 190 countries. This service is especially popular in developing countries where merchants use it to send and receive money on a global scale. The top features of this solution include shopping cart integration, centralized management, payment buttons, local payment options, request funds, send funds, and secure online payments.Payza comes with all the features one expects from an online payment processing platform. The system makes it very convenient for users to send and receive money worldwide. Payza can perform many payment-related transactions and enables users to accept payments via ACH transfers, bank wires, cashier's checks, bitcoin money orders, or credit and debit cards.
Payza management also guarantees to keep the platform as simple, international, versatile, and secure as possible. The service now caters to over 9 million users worldwide and that figure keeps on growing, giving users access to a very large customer base, which is beneficial for online merchants.
BlueSnap
This All-in-one Payment Platform is specifically designed to convert more shoppers to buyers by reducing checkout abandonment on the payment page and by optimizing payment approval rates behind the scenes. Over 1,000 customers worldwide trust BlueSnap to process their online payments.BlueSnap's Platform you will be able to accept all major credit and debit cards: Visa, MasterCard, American Express, Discover, Diner's Club, and JCB.
This is bank agnostic which allows us to provide access to many alternative payment methods such as PayPal, SEPA, and 110 others built-in with the Platform. they also provide eWallets such as, MasterPass, Visa Checkout, Apple Pay, and more. All we need is one integration with BlueSnap.
Built in with the All-in-one Payment Platform are popular eCommerce platforms such as WooCommerce, Magento, and Shopify. These integrations allow you to quickly and easily process all major credit and debit card payments safely and securely. You'll also receive the added benefit of our multiple acquiring bank relationships, which automatically increase your payment acceptance rates through the use of intelligent payment routing.
BlueSnap complies with Level 1 Payment Card Industry Data Security Standards (PCI-DSS), which are the highest standards in the industry. Merchants that are already compliant themselves can use our APIs to process payments without implementing any additional security measures. For merchants that opt not to obtain a Level 1 certification, BlueSnap offers several tools to simplify PCI compliance.
CardinalCommerce
CardinalCommerce is a payment gateway provider that enables secure transactions and authenticated payments and offers alternative payment brands for both mobile commerce and online eCommerce. This platform offers payment brands for thousands of global merchants.
CardinalCommerce has utilized years of feedback and experience to design suitable payment processing solutions for financial institutions and merchants. Its range of products is used by merchants in more than 200 countries and in greater than 180 currencies. The main features include a universal wallet, universal PIN debit service, tokenization, mobile marketing, mobile banking, hosted payments, digital gift cards, and consumer authentication.
There is also the Universal Wallet which provides access to multiple digital wallets with a single integration, such as PayPal, Amazon Payments, MasterCard MasterPass, and Visa Checkout. This is beneficial to consumers who can now pay safely and securely with just a few keystrokes or clicks. As far as security is concerned, users can enable tokenization to reduce PCI scope and protect the most sensitive information of their customers.
Converge
Converge is a cloud-hosted payment solution that enables businesses to accept payments online, in-store, and on the go. You can easily configure this flexible platform for your business needs.
Converge provides compatible solutions for all environments including eCommerce, mobile app, mobile Web, in-store, telephone, and traditional mail. You can use these solutions to optimize your payment processing procedures and drive long-term growth. Converge is successful because it also offers valuable integrations and affordable pricing. Key features include detailed reporting, tokenization, encryption, EMV, electronic benefits transfer, gift cards, and checks, and mobile payments.
Converge accepts a full range of payment methods, from cash, credit cards, and debit cards, to other electronic payment solutions such as electronic checks, gift cards, and even electronic transfers. Users can process payments not only online but also in-store through a computer, card reader, PIN pads, or other devices, and even process mail or phone payments through the system. Its mobile app is intuitive to use and is compatible with most smartphones and tablets in the market.
Converge also offers enhanced security features, including EMV, encryption, and tokenization that comply with the strictest security standards. The system is also easy to set up so that users can start accepting payments instantly. For a more comprehensive view of the business' sales performance, detailed reporting with up to 12 months of data storage is available to readily provide such information to gauge business performance and help formulate better strategies if necessary.
Customizable payment screens can be set up to ensure a unique customer experience that helps generate sales conversions. For businesses that have a lot of personnel such as salespeople, permission management is available for up to 5,000 users who may need to access the system at any time from any device.
Heartland's Payment Gateway
Heartland's Portico Gateway exposes Heartland's primary payments API, which offers a broad set of transactions and features across multiple industry types. Our gateway was built with security in mind and supports several different methods for encryption and tokenization of card data, including E3 End-to-End Encryption, and SecureSubmit tokenization.
Features:
Fully Heartland Secure: EMV, E3, and Tokenization support
Retail, Restaurant, eCommerce, Mail Order, and Lodging supported
Credit, Debit, Gift+Rewards, Alternative Payments (PayPal), and more!
We have the expertise to integrate all the above payment gateway providers with your shopping cart. Do contact us in case you require any custom services in Coldfusion.