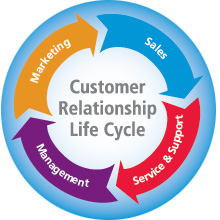 Be it any organization, building a keen relationship with the customers is important so as to enhance customer satisfaction. CRM, the Customer Relationship Management associates the effort of finding, obtaining, developing and maintaining customers and thereby improving customer loyalty to the brand.
With our ITLANDMARK's CRM, we can assure to seek information and cater customers quicker without any compromise on service quality. We are expertise in developing an Open Source CRM Application that can help you in streamlining your business methods, improving marketing effectiveness, increased business performance and total customer satisfaction.
Our chief objective is to provide a CRM solution which meets the demanding needs of your businesses in marketing, sales, team management and many more.
Why ITLANDMARK can be your one stop solutions for CRM solutions?
We have attained high quality CRM implementation expertise by assisting various clients across the globe. Our expert team will strive to build such a solution that will not only fulfill your present needs, but also gives a way to incorporate new functionality in the days to come.
Our ITLANDMARK CRM solutions focus at –
Building up customer satisfaction and retain them for long period
Helping you to lower the customer management cost by building your data management process
Providing effective pipeline management services
Facilitates marketing processes i.e. entire sales process and works to close the deal quickly
Creating brand value for your businesses
Gathering important customer data, their details and histories
Securing integration between various businesses by facilitating two way data sharing
Scalability for your CRM Solution
By building scalable CRM solutions, your CRM software can progress in time with your business. Whether you wanted to add certain new features, remove some unnecessary modules or a complete restoration, here we have the experienced custom programmers and designers at ITLANDMARK, where you can get through with us by a simple phone call.
Business keeps changing often. No matter what kind of business you are into, change is to be expected at one point of the time. In case your business had made a significant investment in off-the-shelf application i.e. CRM recently, that period of change can be difficult.
The CRM application, whether it is an analytical web-based or an operational for sales force administration and customer tracking; it cannot always adapt to changes. The CRM software that is prepackaged has its own limits and is difficult to customize as per the changing needs occasionally.
Our custom programmers are always there in case your CRM application is to be modified or tweaked. With our innate history of atypical customer service and cutting edge programming, we strive to modify and expand your CRM application without any hassles.
Are you in austere search for efficient, secure, flexible, easy to use, steady and scalable CRM solutions which can gain you revenue, contact us through the form deployed on this page. Or else you can also give us a call for immediate services.