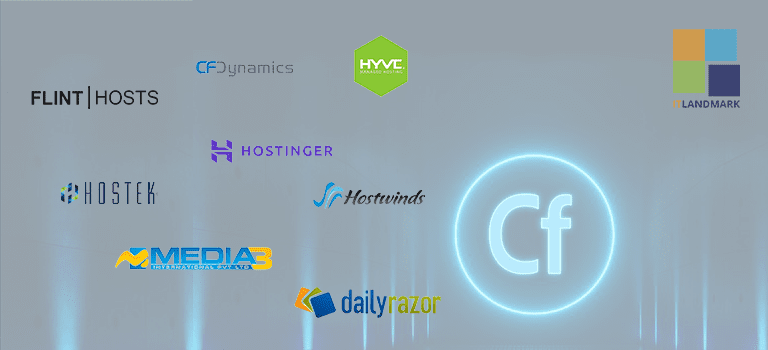 If you've developed a website or an application using ColdFusion, you may be looking for a hosting provider that is fast, stable, and streamlined. While most hosts don't support this platform, there are a few reliable hosting providers that offer shared as well as virtual private servers (VPS) plans. Listed below are some of the best ColdFusion hosting service providers that are cost-effective and efficient.
1. Hostek
Price: $5/month onwards
Established in 1998, Hostek is one of the leaders in providing ColdFusion hosting and server management. Affordability, Security and Reliability with 99.999% Uptime is what makes Hostek the most popular ColdFusion Hosting Company. The platform supports both 2016 & 2018 CF versions and provides 5 GB disk space along with a bandwidth of 100 GB. Hosting your website on Hostek's shared platform can result in an increase in website speed as well as security protocols. The service provider allows you to upgrade your hardware as per your business requirements while ensuring that your website doesn't see any downtime.
2. CFDynamics
Price: $20.79/month onwards
Hosting ColdFusion through CFDynamics can offer you and your customers a powerful website irrespective of the CF version you are using. The service provider offers free WordPress and Drupal integration, along with MySQL database, dedicated IP, and more. If you opt for a starter pack, you get 10GB disk space and a monthly bandwidth of 100GB. The starter pack gives you a total of 2 domains along with 100 Enterprise Email Accounts. While the only drawback may be its cost, CFDynamics offers various plans and is ideal for anyone ranging from a small business to an enterprise.
3. Media3
Price: $38/month onwards
Media3 is a company that 'walk the talk.' They are in the business of providing hosting services to ColdFusion, and their entire website, along with their support, sales, billing, and control panels are driven by CF. This unique position allows them to understand the CF community and their requirements better than anyone else. They claim to offer services that are reliable, affordable, and secure. Media3 supports single sites, offers dedicated cloud servers, and can manage load-balanced clusters. The company supports all CF version, starting from 2011, and offers a host of services such as control panel, mobile app, and 24/7 customer support.
4. Hostinger
Price:$3.95/month onwards
ColdFusion can be set up on any one of Hostinger's VPS packages, which offer daily/weekly backups along with a free domain on yearly plans. The service provider offers unlimited web hosting with a bandwidth of up to 1000 GB. Anyone opting for a monthly plan gets 1 vCPU along with a RAM of 1 GB and 20 GB SSD disk space. Hostinger is one of the most affordable and high-performing ColdFusion service providers. However, it isn't suitable for anyone who wishes to launch their website on a shared hosting package.
5. Hostwinds
Price:$8.99/month onwards
Hostwinds is known for offering a guaranteed uptime of 99.999%, which ensures that your website is always up and running. It is a service provider dedicated to speed and is perfect for anyone launching a business. If you were to opt for Hostwinds, you would get access to 24/7 customer support, unlimited and reseller hosting, along with a 60-day money-back guarantee. Although Hostwinds is one of the best ColdFusion service providers in the market, it does fall on the higher end of the price bucket.
6. DailyRazor
Price:$7.89/month onwards
One of the biggest names in web hosting, DailyRazor, offers multiple hosting plans that are cost-effective while being technologically advanced. Similar to Hostwinds, DailyRazor also offers its clients 99.9% uptime for their websites along with unlimited bandwidth, disk space, and 24/7 customer support. The only drawback of DailyRazor is that it only offers a shared hosting plan for ColdFusion platforms. While this may be great for small businesses, it can be problematic for clients that are looking to scale their online presence.
Price: Customizable
HYVE offers a fully-managed, reliable, and secure service for running ColdFusion applications. CF websites get hosted on their enterprise-grade cloud platform which is managed by a team of highly-trained infrastructure professionals. The company has over 12 years of experience in providing hosting services to CF customers and offer migration as well as configuration support. They offer MySQL database support along with a multi-server load-balanced platform. HYVE supports all versions of CF starting from ColdFusion 8 Standard and offers rates that are customizable to individual requirements. The company is based in the UK and offers 24/7 customer support.
8. Flint Hosts
Price: As per requirement
Flint Hosts is an Adobe Solutions partner and can provide customers with the expertise they have gathered over the years. Offering hosting services to CF developers since 2005, they have hosted over 5,000 CF domains spread across 30 countries. Flint Hosts offers fully-managed ColdFusion services that include security management, incident management, patch management, configuration, and deployment, along with a lot more features. The company provides its clients with custom quotations based on their requirements. Apart from providing various CF hosting features, the company also runs MySQL and MS SQL as database options along with PHP and .NET as language resources for customers using CF.
If you're using ColdFusion to create web applications, you will need a hosting service provider. While CF allows you to create web pages and applications in no time, hosting them can be a task. This is because most hosts don't support ColdFusion. While selecting any hosting service provider, it is essential to figure out the bandwidth, RAM, and uptime that you may require. Apart from this, you may need to figure out the amount of support you require from a hosting service provider. If you're beginning, you may want to explore fully-managed servers. If, however, you're running a large business, you may want to go with a hosting service provider that supports migration and is proficient in handling enterprise work.
The above-listed service providers are some of the best ColdFusion hosting service providers in the world and offer support, speed, and cost-effective prices. To make the right choice, you must first list-down your exact requirements, your future expansion plans, and other such deciding factors.